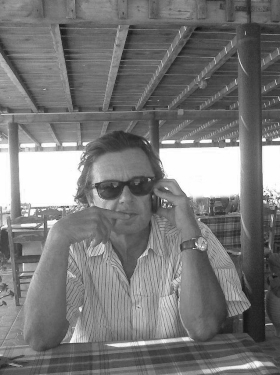 I was attracted to contemporary art very early and I became more interested in the visual arts from the 1980s.
I have traveled and resided a lot in the Cyclades and when I discovered the island of Naxos I decided to settle there and devote my time to artistic development.
Not easy! A great challenge for me and for the island which watched this activity from a little distance.
A challenge? So much the better, I like that.
Along the way, the Gallery was born*, and became known for its exhibitions of expressionists, abstracts, sculptures... a little sometimesdisconcerting... and its participation in international fairs.
At that time the Monastery, a superb building built at the top of the Kastro, welcomed artists in residence. Some of those I exhibited were able to live and work there for a few months, thus producing large format works.
Since its creation the gallery has presented numbers of renown or emerging artists, who today are part of history
Always as motivated in my approach.
Guy Pouzol
* Created in 1999 Petalouda Art Gallery was originally on Promponas street near the port and moved in 2011 to the castle (kastro), the citadel of the old town. The gallery is located on the corner Dellaroka and Kazantzaki street the latter which is named after the famous writer/poet who went to school near by the archaeological museum.
Version française
J'ai été très tôt attiré par l'art contemporain et je me suis intéressé de plus près aux arts plastiques
à partir des années 1980.
J'ai beaucoup voyagé et résidé dans les Cyclades et quand j'ai découvert l'ile de Naxos j'ai décidé de m'y installer et de consacrer mon temps au développement artistique, Pas facile! Un grand défi pour moi et pour l'ile qui regardait cette activité avec un peu de distance.
Un challenge? Tant mieux, j'aime ça.
Chemin faisant la Galerie est née*, et s'est fait connaître par ses expositions d'expressionnistes, abstraites, sculptures, un peu parfois déconcertantes, et sa participation aux foires internationales.
A cette époque le Monastère, superbe bâtisse construite en haut du Kastro, accueillait des artistes en résidence. Certains de ceux que j'exposais ont pu y vivre et travailler quelques mois réalisant ainsi des oeuvres de grand format.
Depuis sa creation la galerie a presente nombres d'artistes renomes ou emergeant, qui aujourd'hui font partie de l'histoire.
Toujours aussi motivé dans ma démarche.
Guy Pouzol
* Crée en 1999, Petalouda Art Gallery était à l'origine sur la rue Promponas près du port puis en 2011, elle s'est installée au château (Kastro) la citadelle de la vieille ville. La galerie est située au coin des rues Dellaroka et Kazantzaki, du nom du célèbre écrivain / poète qui est allé à l'école près du Musée Archéologique.
Petalouda Art Gallery - Guy Pouzol

Chora Naxos, Naxos 84300, Greece - Telephone +30 22850 24531 - Mobile +30 6950 427064
Opening hours: 10am to 3pm and 7pm to 11pm